Tail spend, also known as C-material or maverick spend, is an unavoidable reality of running a business. It's easy to manage large scale purchases—but tail spend, composed of low-cost and high-volume items, is far more difficult to get under control.
While it only accounts for 20% of total spend at an average company, tail spend makes up 80% of all purchased items. In traditional spend management, companies don't allocate much time to analyzing this type of expenditure. They're leaving money on the table.
According to McKinsey, companies that haven't managed their tail spend well in the past have a chance to save 5 – 15% in this spend category. It's time to implement a modern spend management platform so your company can increase visibility, streamline purchasing, and free up spend for strategic projects.
What kinds of purchases make up tail spend?
Tail spend purchases are usually low value, one-off transactions that can cover a large number of suppliers. This category is hard to define because it changes from company to company. For example, some companies may categorize office supplies as tail spend while others don't.
Tail spend includes purchases like:
Petty cash expenses like lunches, phone chargers, and taxis
Office products and supplies like stationary and plastic utensils
Customer gifts
Packaging services
Ad-hoc marketing services
Facilities products like toilet paper and tissue paper
Short term labor hiring
Most procurement teams have a spend management process that focuses on getting the most value out of their largest purchases. Volume discounting, multi-year agreements, and other concessions help optimize these costs. This leaves tail spend out of the buying strategy entirely.
What's the problem?
The biggest concern is that there is usually no system to manage tail spend. Often it's not part of the procurement guidelines at all. These purchases don't go through a procurement team or sourcing process because they're considered too small to catalog. Procurement specialists are taught to handle large and visible purchases that are attached to strategic initiatives or align with the company's vision and growth goals. Since tail spend is only 20% of overall spend, procurement doesn't bother to negotiate pricing.
Here's the bottom line: since tail spend purchases are made by business units without procurement's knowledge or involvement, companies are open to compliance risks, data leaks, wasted time and money, and even credit card fraud.
How to understand tail spend
Deloitte created a spend allocation model to help organize and visualize this problem. As seen below, this makes it easier to decide how to approach different buckets of spend. The bottom left quadrant is tail spend that can be transitioned to marketplaces and consolidators. This in turn reduces the number of suppliers. While it sounds straightforward, it's hard to manage without implementing stringent policies.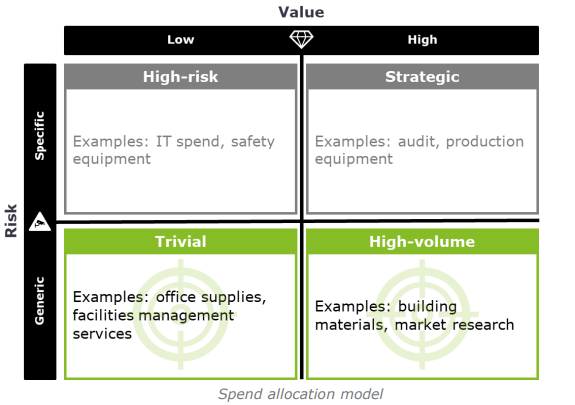 How to improve tail spend analytics
The first step to improving oversight of tail spend is to consolidate data centrally. According to McKinsey, research shows that only 20-40% of data regarding tail spend purchases are centrally stored and available for analysis. Instead, the data is haphazardly stored in excel spreadsheets, local purchasing software, and expense reports across all business units.
The first step to improving your data analytics is to centralize all data in one spend management platform that can oversee procurement, contract management, vendors, and governance policies.
The next step is to streamline processes so that it's easier to create and enforce sourcing rules and compliance checks. This will help improve vendor visibility, show which suppliers already work with your organization, and determine whether orders can be optimized to secure better pricing and contract concessions. You can also identify and nurture relationships with preferred suppliers that span all departments.
In order to succeed, you must ensure that all stakeholders understand and are bought into any new tail spend management program. This includes procurement, IT, finance, legal, and department leaders or end users who frequently make purchases.
The impact of spend management software
Implementing spend management software, such as Quolum, facilitates the automation of purchases, licensing, and suppliers. Not only does it increase visibility for finance and procurement, but it also allows for more creative strategies around purchasing—like moving sourcing to marketplaces, or consolidators who can enhance their offerings.
Spend management technology elevates the role of procurement. It equips procurement leaders with electronic sourcing, also known as e-sourcing. This is helpful for both tail spend and core spending as well. By engaging with a distributor that stocks many tail spend items, this can create economies of scale and opportunities for supply chain and manufacturing efficiencies.
Quolum can help your company negotiate tail spend purchases more effectively by providing guidance on where and when it's possible to negotiate and save money. Low hanging fruit for efficiency and cost saving improvements include:
Lowering overall net price through volume discounting and contract commitments.
Reducing transactional fees by consolidating standalone contracts with the same vendor.
Restricting shipping costs by having items delivered in bulk rather than through many small packages.
Limiting support or maintenance costs for office equipment like projectors, computer screens, and kitchen appliances.
When deciding on a spend management platform, look for ways to create more efficiency. For example, having a purchasing card that automatically logs each and every procurement activity will save you plenty of time. It'll also help you control your transactions, reduce risk and identify areas for improving ROI.
What's next?
Manually managing tail spend can help your company save money. A modern spend management platform can help you do so much more.

If you don't already centrally manage every SaaS purchase from business apps to developer tools, then it's time to learn more about SaaS management and how to reduce SaaS waste.